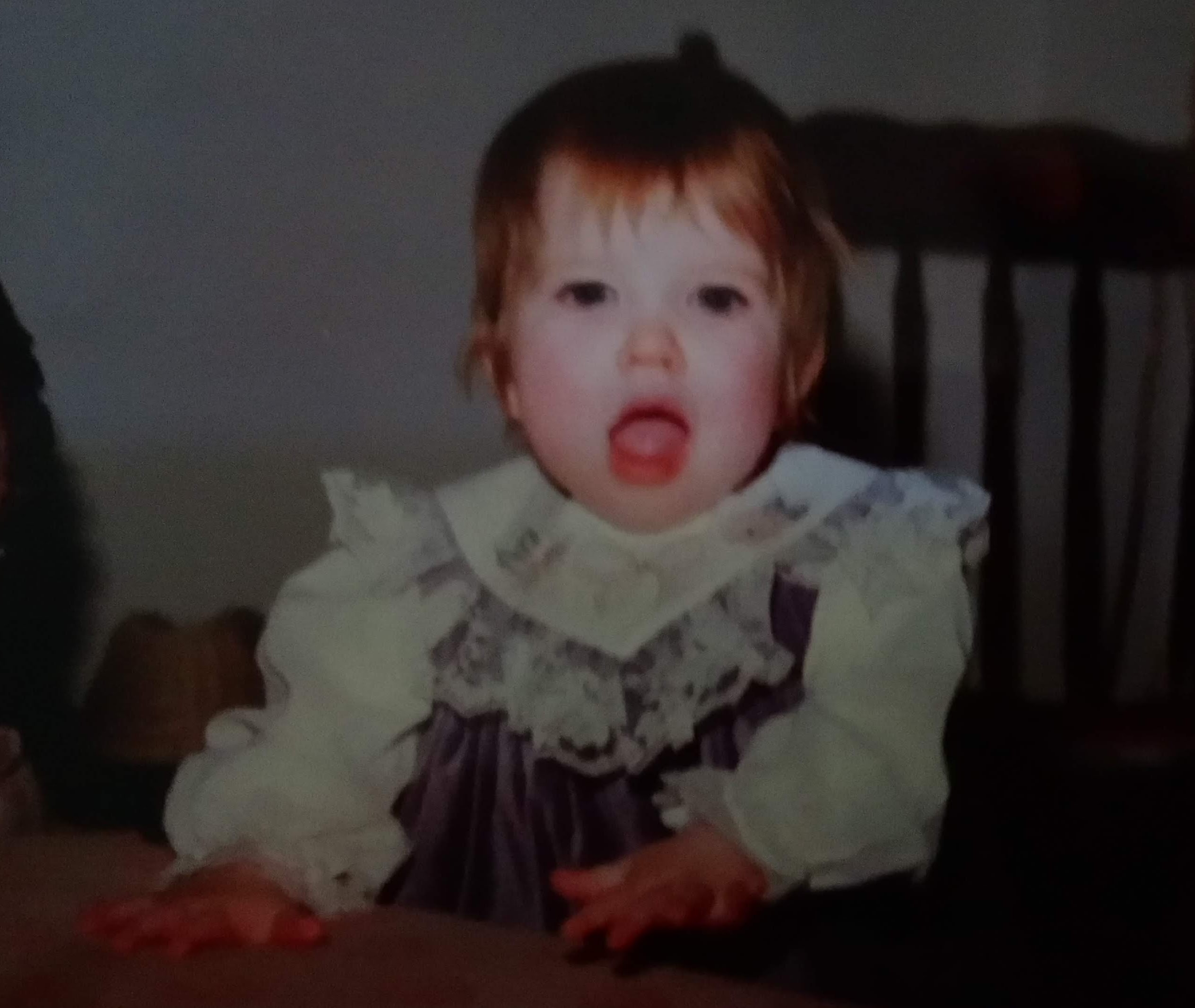 Today I am thinking of family, of love and loss.
Grief is about love; a woeful love song, its heartrending lament.

Elisabeth and me

When I was a young woman, I could not bear children. Infertility had struck, wounded me. It left me gasping for breath and seared my soul with a deep longing. My sister and two brothers had children, and I adored them, still do. They became my surrogate children.
I fed all that ravenous yearning with loving these nephews and nieces of mine. We talked, played, hugged, shared movies, popcorn and candy. They were dreams come true. The little girl who grew up loving babies, loved these babies, these precious gifts. There was much joy in time spent with my nieces and nephews.
Today is my niece Elisabeth's birthday.

Elisabeth

When my niece Elisabeth died, she was only 5 years old.
It was sudden, no warning. It was catastrophic, blindingly painful.
I remember the day as if it were yesterday. It was a gorgeous day, brilliant blue skies, sunshine and golden.

Elisabeth and Geoff

It was a lie; the day was black, suffocating, surreal.
I remember the tears streaming down my Dad's face as he tried but could not eat the soup we were having at my parent's apartment that afternoon. I remember sitting in my brother's living room later when the funeral home came for a dress to bury her in.
I remember my feeling of horror, how could they put that precious wee girl in a cold grave? I couldn't stand it. I panicked and wept and wept. It wasn't right, this ending. Too soon. Too soon. Too early to lose this tiny sprite, this little girl with soft brown hair and big blue eyes hidden behind glasses. I miss the tea parties and the hugs.
I miss her.

The years roll by and then the autumn before my mother died we get a call from my other brother. His daughter, Seana, has cancer. It turns out to be Ovarian Cancer, one of the most fatal of all female cancers.

Selena, me, Seana, Celeste

Seana was in her late 20s, and she died when she was 31.
Bleak and ravaged we absorb this death too, this tragedy.
Disconsolate, we to try to make sense of another untimely loss. It drenches the world in sorrow. What a desolation there is in grief. We find ourselves forever altered.
Seana was a lover of life, a risk taker, a fighter through and through, she was courageous and beautiful. Gone she is – gone. I miss her smile, her mischievous brown eyes.

Leanne, Seana, Me

I miss her.

I remember sharing with my cousin from out West about the suffering I felt over the loss of my nieces. I remember her telling me; they were yours too. They belong to all of you who love them. I was so thankful her consolation.

Back row: Seana, Sarah, Celeste Middle: Geoff Front row: Selena, Ben

Grief is like the waves in the ocean, it comes and sweeps you off of your feet, almost drowns you. Other days you can walk, even play in the waves. Loving someone makes us alive, it makes us want to sing. Grieving the loss of those I love is the cadence to this song, this melancholy melody, this sighing, this sorrow.

I will not tie this up with a pretty bow even though I believe in heaven.
They are gone, and we are here, and every day is a new lesson in living. Every day we exist in the tension between carrying on and curling up.
Every day we miss those we have lost.

Every day.