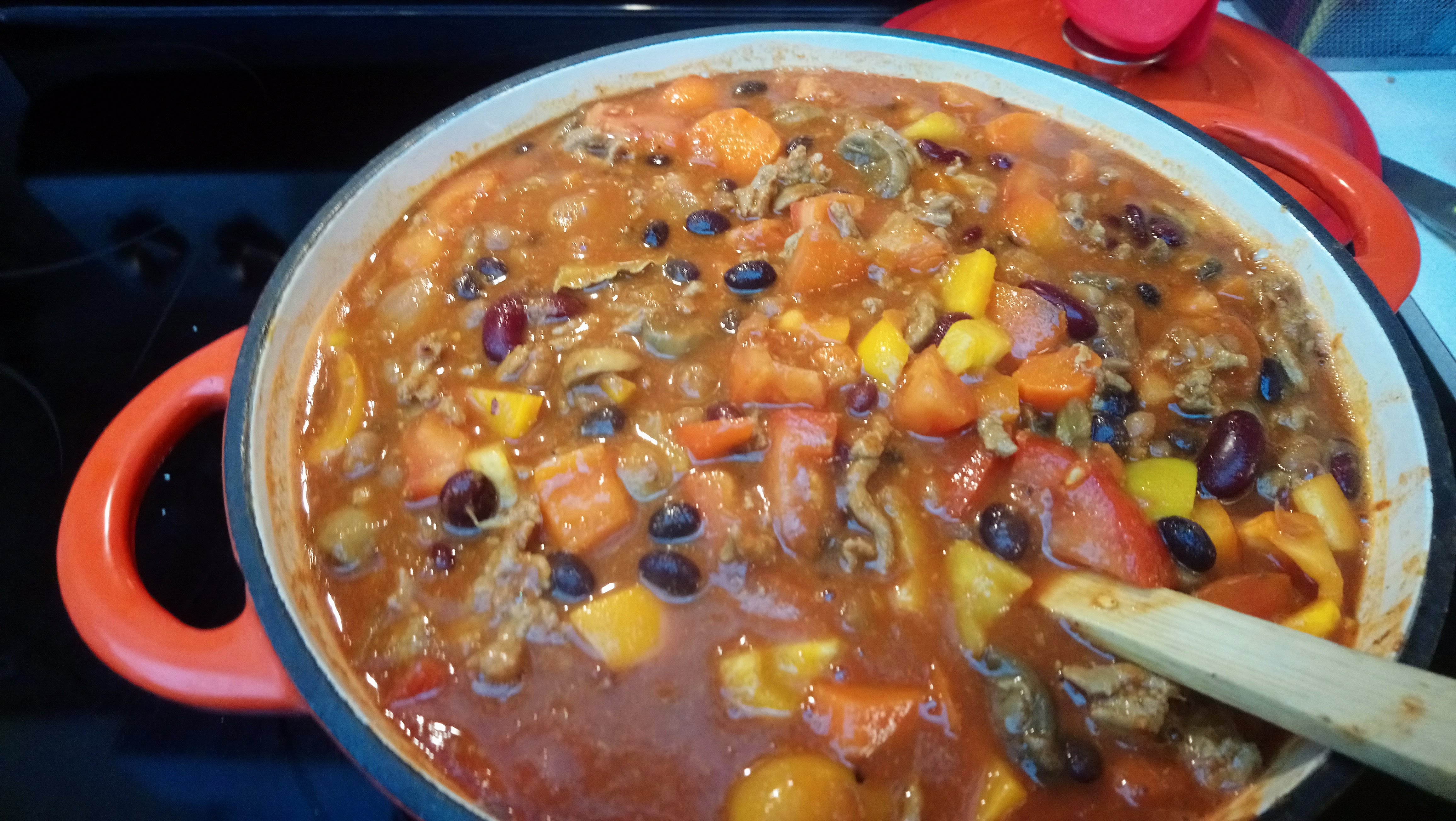 Chili has long been a favourite around our house. We love it so much we'll make even when it is 35 degrees Centigrade, it's that good!
I found this recipe on Weight Watchers, but I have amended it to our liking.
The process – ingredients, starting it, and ta da the finished product!
Turkey Chili
Chili is a great opportunity to take advantage of ground turkey, a little heart-healthier choice.
Ingredients
1 tsp vegetable oil (I prefer EVVO or Avacado Oil)
1 large uncooked onion(s), chopped
1 stalk of celery chopped
1 package of cremini mushrooms
2 medium uncooked carrot(s), thinly sliced into rounds
1 ½ Tbsp apple cider vinegar
2 Tbsp chili powder
1 Tbsp paprika
1 tsp oregano
1/2 tsp. basil
pinch of cayenne pepper
1 tsp Herbamare (or to taste)
1 tsp cumin powder
1/8 tsp red pepper flakes (if you like it spicier add more)
2 medium fresh tomato(es), chopped
1 cup(s) canned tomato sauce
1 cup(s) fat free chicken broth
1 ½ cup(s) cooked kidney beans, rinsed and drained
1 can brown beans
1 can black beans, rinsed and drained
1 pound(s) uncooked 99% fat-free ground turkey breast
2 clove(s) (medium) garlic clove(s), minced
2 cup(s) uncooked bell pepper(s), chopped (we like red, yellow and or orange)
Instructions
1. Heat a large pot coated with cooking spray over medium heat. Add oil and onion; sauté onion until soft. Add garlic and carrots and mushrooms cook until garlic is softened. Add ground turkey and brown meat, about 5 minutes. Stir to break up lumps.
2. Add chili powder, paprika, cumin, oregano, basil, cayenne, Herbamare, and red pepper flakes, tomatoes and tomato sauce, broth and vinegar. Bring mixture to a boil and reduce heat. Cover and simmer until meat is tender, 30 to 45 minutes.
3. Add beans and pepper. Simmer, uncovered, until peppers are done, about 10 minutes. Divide into 1-cup servings and serve.
If you are having a larger crowd, you can simply add more beans and veggies, more tomato sauce and broth and if necessary add tomato paste as well. Adjust the spices as necessary. You could also make a pot of rice, and that will stretch the Chili even further.
Yummo!
It's always a crowd pleaser both for family get-togethers or parties with friends!
Enjoy!